$14.50
AUD
$14.99
(3% off)
Category: Classics | Reading Level: very good
Charles Dickens' "Oliver Twist" is a gripping portrayal of London's dark criminal underbelly, published in "Penguin Classics" with an introduction by Philip Horne. The story of Oliver Twist - orphaned, and set upon by evil and adversity from his first breath - shocked readers when it was published. Afte r running away from the workhouse and pompous beadle Mr Bumble, Oliver finds himself lured into a den of thieves peopled by vivid and memorable characters - the Artful Dodger, vicious burglar Bill Sikes, his dog Bull's Eye, and prostitute Nancy, all watched over by cunning master-thief Fagin. Combining elements of "Gothic Romance", the "Newgate Novel" and popular melodrama, Dickens created an entirely new kind of fiction, scathing in its indictment of a cruel society, and pervaded by an unforgettable sense of threat and mystery. This "Penguin Classics" edition of "Oliver Twist" is the first critical edition to faithfully reproduce the text as its earliest readers would have encountered it from its serialisation in Bentley's Miscellany, and includes an introduction by Philip Horne, a glossary of Victorian thieves' slang, a chronology of Dickens' life, a map of contemporary London and all of George Cruikshank's original illustrations. Charles Dickens is one of the best-loved novelists in the English language, whose 200th anniversary was celebrated in 2012. His most famous books, including "Oliver Twist", "Great Expectations", "A Tale of Two Cities", "David Copperfield" and "The Pickwick Papers", have been adapted for stage and screen and read by millions. If you enjoyed "Oliver Twist", you may like "Nicholas Nickleby" and "Little Dorrit", also available in "Penguin Classics". "His novels will endure as long as the language itself". (Peter Ackroyd). "He is our greatest novelist - every reread reveals more riches". (Melvyn Bragg). "When Dickens has once described something you see it for the rest of your life". (George Orwell). ...Show more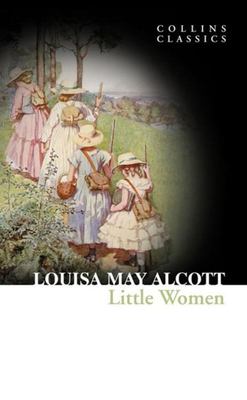 $19.00
AUD
$19.99
(4% off)
Category: Classics | Series: Collins Classics
HarperCollins is proud to present its new range of best-loved, essential classics. 'Wouldn't it be fun if all the castles in the air which we make could come true and we could live in them?' A heart-warming tale of love, sisterhood and hardship during the New England Civil War, Little Women tells the st ory of the lovable March family. Meg, Beth, Jo and Amy try to support their mother at home while their father is away at war and enter into various scrapes and adventures as they do so. Alcott beautifully interweaves bad times and good as her characters struggle with the trials and tribulations of growing up and their relationships with one another. ...Show more
$12.50
AUD
$12.99
(3% off)
Category: Classics | Series: Popular Penguins
Meet Ignatius J. Reilly: flatulent, eloquent and pretty much unemployable . . . The ordinary folk of New Orleans seem to think he is unhinged as well. Ignatius ignores them as he heaves his vast bulk through the city's fleshpots in a noble crusade against vice, modernity and ignorance. But his momma has a nasty surprise in store for him. Ignatius must get a job. Undaunted, he uses his new-found employment to further his mission - and now he has a pirate costume and a hot-dog cart to do it with . . . ...Show more
Jane Eyre
by Charlotte Brontë
$12.50
AUD
$12.99
(3% off)
Category: Classics | Series: Popular Penguins Ser. | Reading Level: near fine
Charlotte Bronte (21 April 1816 - 31 March 1855) was an English novelist and poet, the eldest of the three Bronte sisters who survived into adulthood and whose novels have become classics of English literature.The literary heritage of the Bronte sisters entered the treasury of national English culture g aining recognition far beyond England. Particular success fell on the novel written by Charlotte Bronte Jane Eyre which was subsequently filmed. Written with sincerity and passion, the novel does not age and does not lose its charm. This novel is still one of the most popular classical works of the XIX century. The strength of his influence lies in the truth of the senses, in their truth, in the combination of the real with the romantic, in the captivating fascination of history, a simple little governess capable of great and faithful love, having managed, having overcome all the vicissitudes of fate in order to find her own happiness. ...Show more
$12.50
AUD
$12.99
(3% off)
Category: Classics | Series: Popular Penguins Ser.
Alice's Adventures in Wonderland (1865) is a novel written by English author: Lewis Carroll. It tells the story of a girl named Alice who falls down a rabbit-hole into a fantasy world populated by peculiar and anthropomorphic creatures.The tale is filled with allusions to Dodgson's friends (and enemies) , and to the lessons that British schoolchildren were expected to memorize. The tale plays with logic in ways that have made the story of lasting popularity with adults as well as children. It is considered to be one of the most characteristic examples of the genre of literary nonsense, and its narrative course and structure has been enormously influential, mainly in the fantasy genre. ...Show more
War and Peace
by Leo Tolstoy; Anthony Briggs (Notes by, Translator, Introduction by); Orlando Figes (Afterword by)
$14.50
AUD
$14.99
(3% off)
Category: Classics | Series: Penguin Classics Ser.
This beautiful Penguin Classics clothbound edition of Tolstoy's great novel is translated with an introduction and notes by Anthony Briggs, and with an afterword by Orlando Figes.At a glittering society party in St Petersburg in 1805, conversations are dominated by the prospect of war. Terror swiftly en gulfs the country as Napoleon's army marches on Russia, and the lives of three young people are changed forever. The stories of quixotic Pierre, cynical Andrey and impetuous Natasha interweave with a huge cast, from aristocrats and peasants to soldiers and Napoleon himself. In War and Peace, Tolstoy entwines grand themes - conflict and love, birth and death, free will and faith - with unforgettable scenes of nineteenth-century Russia, to create a magnificent epic of human life in all its imperfection and grandeur.Anthony Briggs's superb translation combines stirring, accessible prose with fidelity to Tolstoy's original, while Orlando Figes's afterword discusses the novel's vast scope and depiction of Russian identity. This edition also contains appendices, notes, a list of prominent characters and maps.'A masterpiece ... This new translation is excellent' - Anthony Beevor ...Show more
$22.00
AUD
$22.95
(4% off)
Category: Classics | Series: Arrow Classic S. | Reading Level: very good
Paris in the twenties: Pernod, parties and expatriate Americans, loose-living on money from home. Jake is wildly in love with Brett Ashley, aristocratic and irresistibly beautiful, but with an abandoned, sensuous nature that she cannot change. When the couple drifts to Spain to the dazzle of the fiesta and the heady atmosphere of the bullfight, their affair is strained by new passions, new jealousies, and Jake must finally learn that he will never possess the woman he loves. Powerful, intense and magnificent, Fiesta is the novel which established Ernest Hemingway as a writer of genius, and set him on the way to being one of the greatest literary novelists of the twentieth century. ...Show more
$19.00
AUD
$19.95
(4% off)
Category: Classics
John Steinbeck's powerful evocation of the suffering and hardship caused by the Great Depression, and a panoramic vision of the struggle for the American Dream, The Grapes of Wrathincludes a critical introduction by Robert DeMott in Penguin Modern Classics.'I've done my damndest to rip a reader's nerves to rags, I don't want him satisfied.' Shocking and controversial when it was first published in 1939, Steinbeck's Pulitzer prize-winning epic The Grapes of Wrath remains his undisputed masterpiece. Set against the background of Dust Bowl Oklahoma and Californian migrant life, it tells of Tom Joad and his family, who, like thousands of others, are forced to travel west in search of the promised land. Their story is one of false hopes, thwarted desires and broken dreams, yet out of their suffering Steinbeck created a drama that is intensely human, yet majestic in its scale and moral vision. Adapted into a celebrated film directed by John Ford, and starring Henry Fonda, The Grapes of Wrathis an eloquent tribute to the endurance and dignity of the human spirit.If you liked The Grapes of Wrath, you might enjoy East of Eden, also available in Penguin Classics.'A novelist who is also a true poet' Sunday Times ...Show more
$14.50
AUD
$14.99
(3% off)
Category: Classics | Series: Classics Ser. | Reading Level: good
This revelatory new translation by strips Thus Spoke Zarathustra down to its foundations in Gothic horror, and discovers a much darker book than previously understood. Not content to focus erringly on God is dead, this new translation sings a dithyramb to the earth at the same time as it mercilessly hun ts down the concept of humanity to its theological bedrock. Epic and neo-classical, minimalist and ultra-modern; at times aggressive and confrontational, at others tender, lyrical, grotesque and comical - this is the closest reproduction of the tone and tenor of the German original available in English today. One of the most controversial books in the history of European literature it is a founding classic of modernism in philosophy and poetics. Zarathustra - Star of Gold - the sun-worshipping prophet of the earliest strain of monotheism, returns to recant and condemn his own ideas in the name of an entity he calls the oebermensch. He wanders through a familiar land whose customs, laws, and values have been mortgaged to religion and commerce. The people there believe they exist at the summit of civilization. Zarathustra educates them that the opposite is true. ...Show more
$22.00
AUD
Category: Classics | Series: Harper Perennial Modern Classics Ser. | Reading Level: very good
This cult classic of gonzo journalism is the best chronicle of drug-soaked, addle-brained, rollicking good times ever committed to the printed page. It is also the tale of a long weekend road trip that has gone down in the annals of American pop culture as one of the strangest journeys ever undertaken.   Now a major motion picture from Universal, directed by Terry Gilliam and starring Johnny Depp and Benicio del Toro. ...Show more
$21.00
AUD
Category: Classics | Series: Vintage Classics Ser.
Paris in the twenties- Pernod, parties and expatriate Americans, loose-living on money from home. Jake is wildly in love with Brett Ashley, aristocratic and irresistibly beautiful, with an abandoned, sensuous nature that she cannot change. When the couple drift to Spain to the dazzle of the fiesta and t he heady atmosphere of the Bullfight, their affair is strained by new passions, new jealousies, and Jake must finally learn that he will never possess the woman that he loves. ...Show more